Experts in Automation & Robotics Gripper Solutions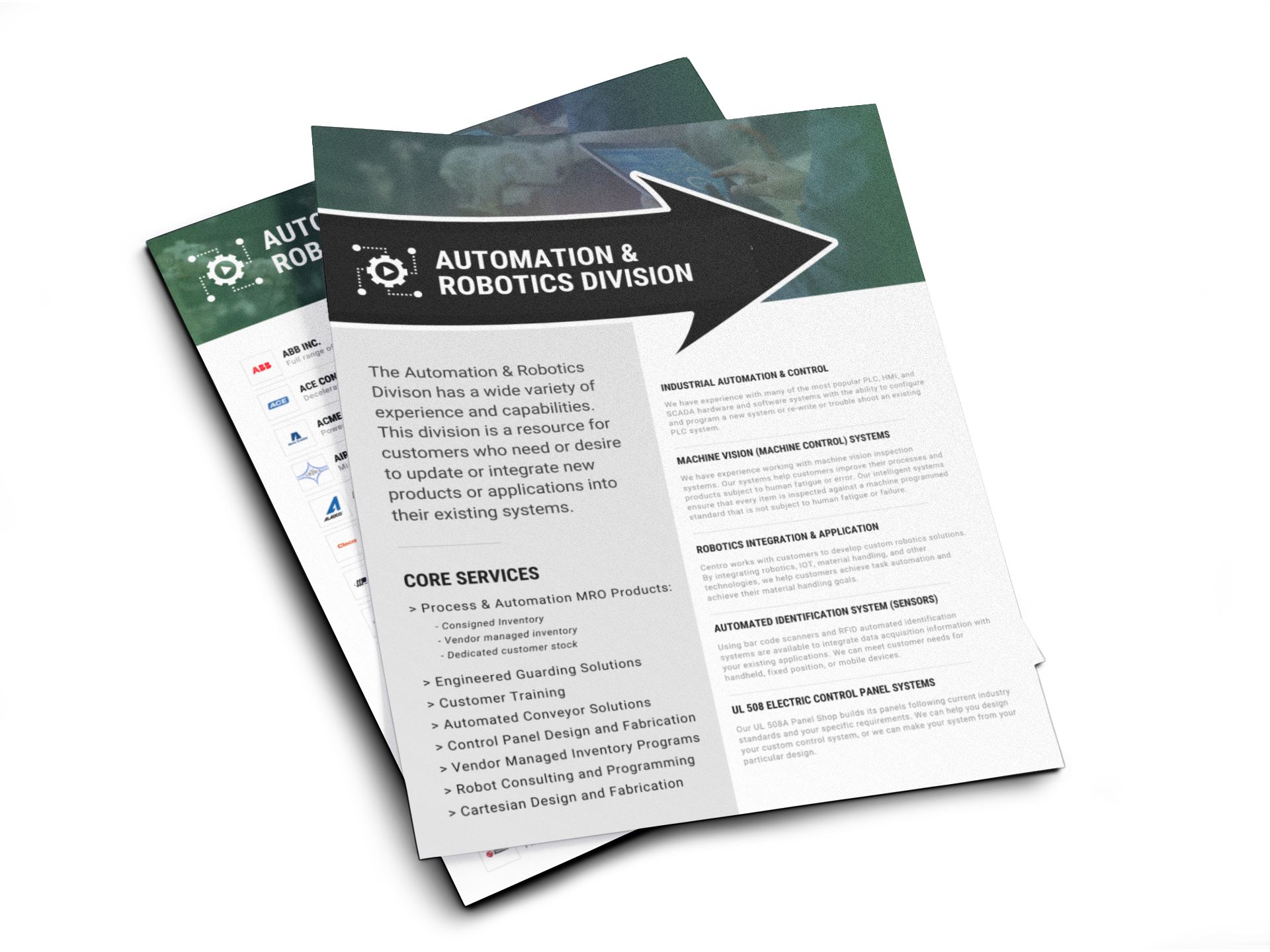 Call us at 901-350-2830 or complete this online form to download an Automation & Robotics Line card. A Centro Automation & Robotics Specialist will be in touch to discuss your operation.
Vacuum components and gripping systems enable significant increases in productivity for automated processes. Get the right gripping system for your automated application.
The Centro Automation & Robotics team is here to help. Lots of companies can sell you a product – if you know what you need and when you'll need it. Centro is different. We want to be your EOAT gripping technology partner.
There are many different types and sizes of grippers designed to pick up a wide variety of parts and materials including:
Parallel Motion Two-Jaw Gripper
Three-Jaw Gripper
Bellows Gripper
Collet and Expanding Mandrel Grippers
O-Ring Grippers
Needle Grippers
Multi-Finger and Adaptive Grippers
Vacuum Cup or Vacuum Cup Arrays, Electromagnets, and Electrostatic Force Grippers
Authorized Distributor For The Top Brand In End of Arm Tooling Gripping Technology
Manufacturers rely on gripping technology for the short set-up times, high holding forces, maximum precision. We provide our customers with gripping handling solutions that meet their goals in terms of profitability, productivity, quality, safety, and environmental conservation.
SCHUNK GRIPPING & CLAMPING
Schunk defines a new standard of high-quality product and industry-related solutions - in clamping technology and gripping systems. Schunk has the most extensive assortment of gripping systems, clamping, and end of arm tooling technology including pneumatic and electric grippers.
Is Your Robotics Partner A UL508A Certified Panel Shop?
Underwriters Laboratories (UL) is an independent testing company that provides product safety standards and third party product safety certification. A UL508A Panel is an electrical control panel with a UL508A Label. This certifies it meets the UL508 safety standard and was produced by a panel shop with UL508A certification.
"Our mission is to be regarded by our customers and community as the best supplier of control & automation product solutions to industry"
_________________________
​
3315 Overton Crossing, Memphis, TN 38127
©2022 Centro, Inc.® Prices and offers subject to change.