Bulk Material Solutions for Enhanced Industrial Efficiency
Optimize Your Processes with Centro's Solutions
Reliable Materials Handling Capabilities
Centro provides reliable materials handling capabilities for bulk solids in various industries. Our bulk material solutions are designed to work reliably with bulk solids and provide customers with various benefits, such as lower manufacturing costs, improved product quality, and enhanced process information. We also offer feedback from operations to help optimize customer processes.
Advanced Technologies for Tailored Solutions
Centro utilizes advanced technologies to provide industrial customers with efficient bulk solid handling systems tailored to their needs. We offer a wide range of bulk material solutions designed to work reliably with bulk solids and help enhance industrial process efficiency and effectiveness. With our bulk material solutions, customers can achieve lower manufacturing costs, increased process reliability, improved product quality, enhanced process information, and improved feedback from operations.
Solutions for Numerous Industries
Centro's bulk material solutions apply to numerous industries, including mining, construction, food processing, and chemical production. Our solutions are designed to be reliable and efficient, giving customers the tools they need to optimize their processes and achieve their desired results. We offer a wide range of bulk material solutions tailored to each customer's needs, allowing them to make the most of their industrial processes.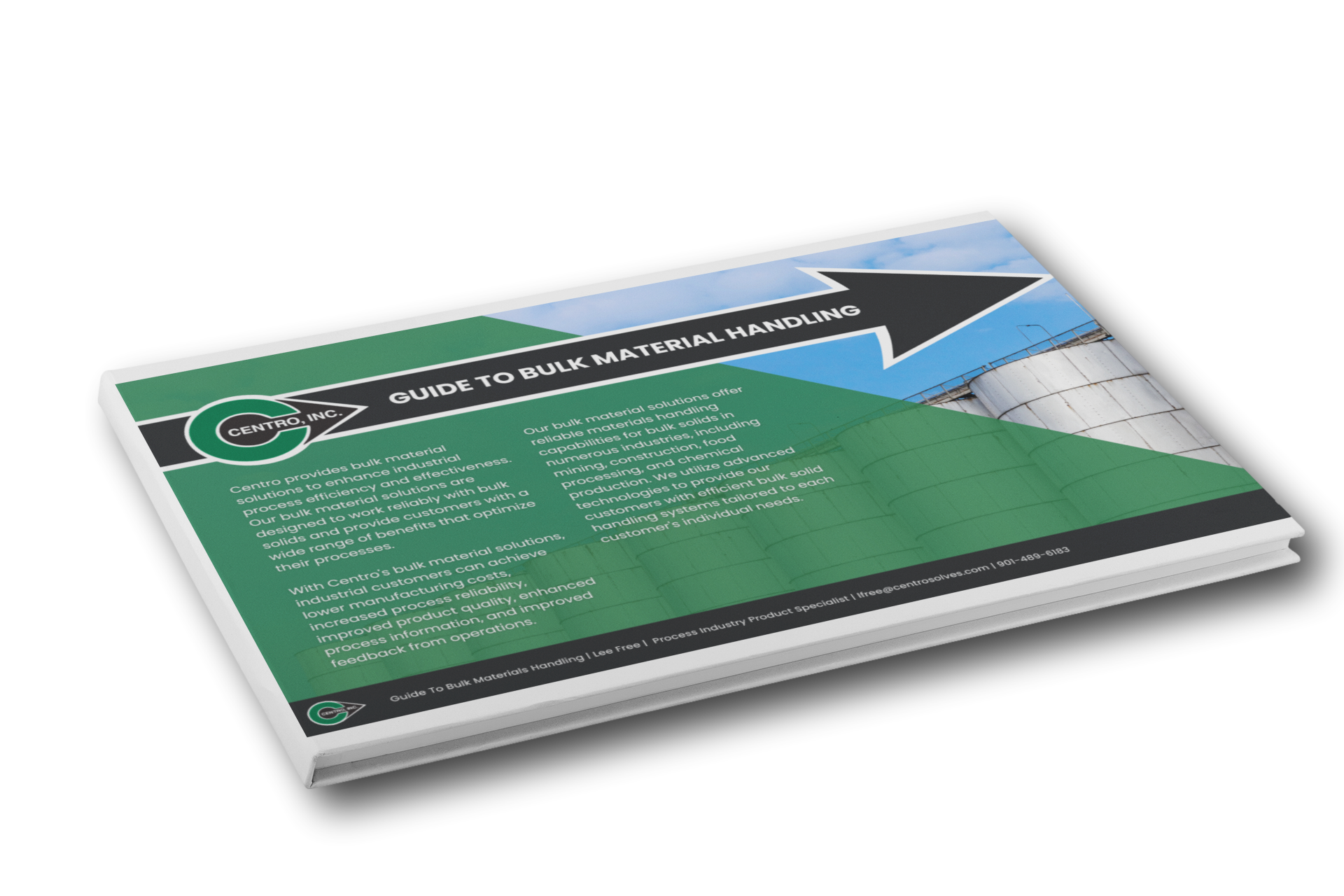 Ready to Transform Your Industrial Process With Our Bulk Material Solutions?
Complete this online form to download our Guide to Bulk Material Handling, and a Centro Territory Manager will be in touch to discuss your operation.
Centro is Your Go-To Specialty Distributor for Manufacturing Process Flow Control
Are you looking for a reliable sales representative company to help you improve your manufacturing process flow control of fluids, solids, and gases? Look no further than Centro! Our six divisions are dedicated to providing services and expertise that help you monitor and control different parts of your manufacturing plant process.

One of our most essential divisions is the Filtration and Process Systems Division which includes our specialized experience in Bulk Material Handling. Our extensive experience and capabilities make us a valuable resource for customers who want to optimize their processes and improve efficiency, product quality, and cost-effectiveness while reducing emissions. We integrate only the best-in-class products to help you achieve your goals. Contact us today to see how we can help you take your manufacturing process to the next level.
Bulk Material Handling
Industrial Safety Solutions
Heat Treatment
Food and Beverage
Air Cylinders
3315 Overton Crossing
Memphis, TN 38127
Support Available
8:30 am - 5:30 pm CT